Here's another reason to love CHRIS STAPLETON, as if you needed one, right? You're never going to see him pull a BRITNEY SPEARS and lip sync. Anywhere. For one, he thinks it's disrespectful to his band. Quote, "I'm not going to ask musicians to sit there and pretend to play. It feels insulting to the musicians to me." He also wants his live shows to be spontaneous . . . and you can't do that if you have a pre-programmed computer rolling through track after track. Quote, "If we feel like we want to play a cover, we'll switch to that. I like working without a net. It'll probably bite me in the ass at some point, but they'll know it was live, so that's fine with me." I also love that he refuses to lip sync on awards shows, even though it can be annoying to the producers. But hey, too bad for them. Quote, "They're uncomfortable, but they learned that's what I like, or I won't do it, and that's fine."
KEITH URBAN took a really big chance by letting a fan come on stage and play guitar during his show. Fortunately, it paid off because the guy has serious skills. This was at his concert on Saturday in New Hampshire. The fan's name is Rob Joyce, and it all started when his girlfriend held up a sign that read, "It's my boyfriend's birthday." Keith brought him on stage as he was talking to the girlfriend, and she blurted out that "he could be you backup guitarist." Next thing you know Keith's giving him the guitar off of his back, and the guy launches into "Good Thing". Keith jumped in with vocals and they played the entire song. Rob even shredded the guitar solos. Keith was still impressed after the show because he posted a video of himself on Facebook giving a shout out to Rob who "killed it on the guitar."
There's a photo of BLAKE SHELTON and GWEN STEFANI on the balcony of the Ladysmith Bed and Breakfast Tishomingo, Oklahoma over the weekend. Yep, that's the inn that MIRANDA LAMBERT built from nothing. But, according to the website it's under new management, and there's talk that Blake may be the new owner.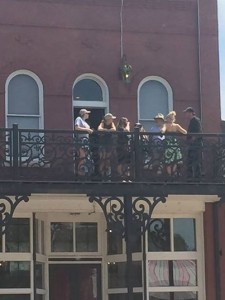 25 people at KENNY CHESNEY's Pittsburgh concert on Saturday ended up in the hospital. Most of it was alcohol related. There were also a handful of arrests.
http://www.billboard.com/articles/news/7424034/25-people-taken-to-hospitals-during-kenny-chesney-concert
CHRIS LANE took a shirtless "dog filter" selfie on Snapchat and then posted it on Instagram. He captioned it "Who loves puppies." He also announced that his new album is called "Girl Problems", and it'll be out August 5th.