Did KELSEA BALLERINI and TAYLOR SWIFT record a song together? Kelsea posted a 15-second clip of a very Taylor-sounding song on Snapchat, and people are wanting to believe it's a duet . . . because that's what they do. What do you think? Click HERE!
LORETTA LYNN is still healing from surgery after her recent fall . . . so she announced on Facebook that she's canceling both of her shows in Texas this weekend.
BRAD PAISLEY is getting his own exhibit at the Country Music Hall of Fame and Museum. It'll feature musical instruments, stage outfits, awards, photographs, plus a lot of his artwork. It opens November 18th. Details are at BradPaisley.com.
A photo of WILLIE NELSON hanging out with Virginia Governor TERRY MCAULIFFE has gone viral, because there's a can of Willie's Reserve marijuana sitting on the table. Pot's illegal in the state. (Here's the pic.) Willie was performing at Farm Aid and the governor stopped by his trailer for a 10- minute visit. Even though the can was right in front of him, he didn't notice it. A spokesman said, quote, "He was not and still is not aware of whatever was on the table or anywhere around him and wouldn't know marijuana or related paraphernalia if it walked up and shook his hand. He's cool, but he's not that cool." Some people are jumping on this because there were over 20,000 marijuanarelated arrests in Virginia last year. The governor opposes legalization, but he does support medicinal marijuana. Willie's Reserve is sold legally in Colorado and Washington.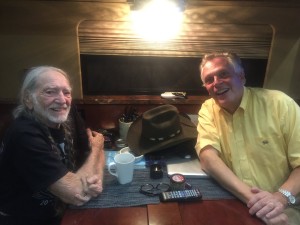 BILLY GILMAN was a country star at the age of 11, thanks to his song "One Voice", which was a huge hit. Sadly, he faded away as he grew up and his voice changed. Well, he's 28 now, and the man can sing. He proved it on last night's episode of "The Voice" with a terrific performance of ADELE's "When We Were Young". All four judges made their pitch for him to join their team. BLAKE SHELTON remembered that "One Voice" came out while he was making his debut album. He also told Billy that he'd finally arrived, quote, "You've found your sound and where you belong musically. I'm happy for you." MILEY CYRUS pitched herself as someone who knew what it took to go from child star to grown-up singer. And ALICIA KEYS called his performance inspiring. ADAM LEVINE actually stood up and refused to sit down until Billy came aboard . . . and he got his wish.
Do you recognize this voice? @nbcthevoice TONIGHT at 8/7c on @nbc. pic.twitter.com/ZVJrUjseG3

— The Voice (@NBCTheVoice) September 20, 2016