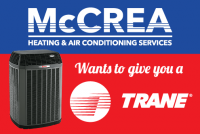 Breast Cancer Awareness of Cumberland Valley, 104.7 WAYZ, and McCrea Heating and Air are teaming up to make the holidays a little warmer this year!
If you are a breast cancer survivor or are currently in treatment, you could win a new Trane heating system!
Just send a picture and brief description of your current system, why you need a new one, and your contact information to info@bcacv.org or drop it off to their offices beside the Longmeadow Post office in Hagerstown.
You need to currently have a heat pump or forced air system to qualify. Register by December 17th to win your new heating system from McCrea Heating and Air!
To qualify:
* Must have a heat pump or a forced air system with duct work in place to qualify. No oil furnaces. Only heat or gas furnaces.
* Must be a breast cancer survivor or currently receiving treatment.
* Must own your home.
Winner will be selected by December 22, 2017.
System to be installed by January 31, 2018.