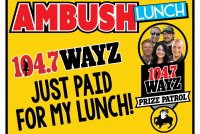 Would you like lunch for FREE! Well we want to give it to you!
Every Tuesday the WAYZ prize patrol will be at Buffalo Wild Wings.
If you are sitting at the lucky table, your table will have lunch on us!
Be at the Buffalo Wild Wings in Hagerstown on Railway Lane between noon and 1p for your chance.