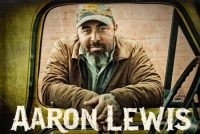 Aaron Lewis (former Staind front man) known for his genuinely gritty lyrics and hard rock anthems is back to his roots of traditional country music.
He will be performing at The Event Center at Hollywood Casino in Charles Town on Friday, July 20th  and Saturday, July 21st.
For tickets and more information, visit hollywoodcasino.com.