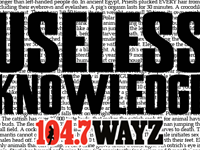 Every weekday at 7:10am catch up on the things that you may often wonder about with AJ's Useless Knowledge! AJ will give you a Useless Knowledge question, and you can give him a call at 1-888-950-1047 and let him know what you think! You learn something new, AJ learns something new, and have fun doing it… Be sure to email your Useless Knowledge question to ajsilver@wayz.com and then be listening for your question on "Useless Tuesday"…when you hear your question be used call AJ and he will hook you up with a WAYZ prize pack!
Useless Knowledge Recap
Tweet Share 0 LinkedIn 0 Useless Knowledge 12-24-18 Q: 69% of families will go out and do this holiday tradition on Christmas day? A: Go to the movies! Useless Knowledge 12-25-18 NO QUESTION TODAY… DUH IT'S CHRISTMAS!