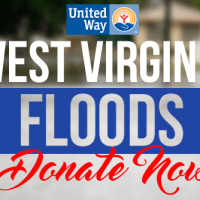 VerStandig Broadcasting's 101.5 Bob Rocks and 104.7 WAYZ will each be operating one-day fundraisers in an effort to raise funds for those affected by the catastrophic floods in central and southern West Virginia.  On Thursday, June 30th, both stations will participate in 12 hour live broadcasts from 6am to 6pm benefiting the Emergency Flood Fund created by United Way of Central West Virginia. The funds will help meet basic needs of food, shelter, and clothing that were lost in the recent disaster.
"These people are our neighbors, whether we have had the pleasure of meeting them or not. In times like these, neighbors lend a helping hand," said 101.5's Big Bob.
Donations can be made via cash or check. Anyone unable to visit the live broadcasts can donate online at www.unitedwaycwv.org. or stop by the VerStandig Broadcasting office at 10960 John Wayne Drive, Greencastle, PA.
WAYZ will also collect the following items that Shepherd University will deliver to the areas in need:
Current list as of 6/26:
Contractor Trash Bags – Large Size
Mops and Brooms
Bleach
Scrub Brushes and Buckets
Rubber Gloves
Work Gloves
Pet food/Pet Supplies/Pet Carriers
Shovels, Rakes, and Water Hoses
Personal Hygiene Supplies
Paper Towels, Toilet Paper
Diapers
*CLOTHING WILL NOT BE ACCEPTED AT THIS TIME
101.5 Bob Rocks will be live from Break Away II located at 13726 Pennsylvania Avenue in Hagerstown, MD.
104.7 WAYZ will be live from The Café at Antrim Way Honda located at 200 S. Antrim Way in Greencastle, PA.