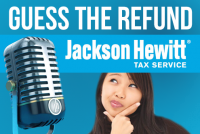 3pm-7pm Holly will have your chance to win cash from Jackson Hewitt if you can guess the refund.
Each prize is between $1 and $600! She will let each person know if they are too high or too low.
Check out her Facebook page for the guesses from each day so you have a better chance to win!
Terms & Conditions Below
---
VERSTANDIG MEDIA
WAYZ(FM)
The Jackson Hewitt Guess the Refund Game
GENERAL OFFICIAL CONTEST RULES
1) The contest is open for all listeners 18 years of age or older.
2) Employees of HJV Limited Partnership, (VerStandig Media), its affiliates and subsidiaries, participating sponsors\promotional partners, other radio stations in the Frederick, MD \ Hagerstown, MD\Chambersburg\Waynesboro, PA Market and members of their immediate households are ineligible to participate or win.
3) Listeners are eligible to win this contest as often as they qualify.
4) Prize and or prizes must be picked up within 30 days from date prize was won or it is forfeited. Cash prizes will be available for pickup immediately during office hours.
5) VerStandig Media reserves the right to change or discontinue the contest at any time. Any change will become effective upon announcement of the change on-air.
6) Failure to comply with the contest rules may result in a contestant's disqualification at the discretion of VerStandig Broadcasting.
7) All prizes or prize certificates may be picked up at the office of VerStandig Broadcasting, 10960 John Wayne Dr., Greencastle, Pennsylvania. In the event that a prize or prize certificate is mailed to the winner, it will be with the prior written consent of the winner and therefore, winner assumes the risk of its arrival.
8) Payment of all federal, state and local taxes are the sole responsibility of the winner. Prizes awarded with a value totaling $600.00 or more in a calendar year, will receive, an IRS Form 1099 at the end of that year. Winners must provide the needed information for the IRS Form 1099 as a condition of receiving the prize.
9) No purchase necessary. Void where prohibited.
10) Contest prizes are not transferable, may not be substituted for or redeemed for cash.
11) Copies of the written contest rules are available during regular business hours at 10960 John Wayne Dr., Greencastle, Pennsylvania and at Jackson Hewitt's office at 585 Northern Avenue, Hagerstown, Maryland.
12) THE CONTEST: This contest will occur non-holiday weekdays between 3pm and 7pm. The correct caller when it is announced on 104.7 WAYZ that "NOW IS THE TIME TO PLAY THE JACKSON HEWITT REFUND GAME" will offer a guess of a dollar amount including cents $1 and $600. If they guess exactly the number pre-determined in the studio, the caller wins that amount. If the guess is incorrect, they will be told whether their guess is higher or lower than the pre-determined amount.
13) Every time a caller is answered, the guess will be repeated back by the DJ for confirmation before the caller is told whether they are correct. Every call will be recorded to avoid discrepancies.
14) The pre-determined number in the studio does not change until a correct guess has been made. Once a cash prize is won, the pre-determined number will move to the next number on the list.
15) A listener can guess as many times as they are able to be the correct caller.
16) A maximum of four cash prizes will be awarded.
17) Start date of contest: on or about February 4, 2019.
18) End Date of contest: After four prizes have been awarded and the last high-low game will not start after April 2nd.(i.e. if a prize is awarded after that date, no new number will be chosen)
19) All rules are subject to change by management of Jackson Hewitt or VerStandig Media.