Get The Fake Out 
Tuesdays & Thursdays at 6:10 a.m AJ & Krystle will give listeners 3 facts and the listeners have to pick which one is fake.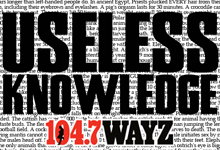 Useless Knowledge 
Every weekday at 7:10 a.m., catch up on the things that you may often wonder about with AJ's Useless Knowledge! Give AJ a call at 888-950-1047 and let him know what you think!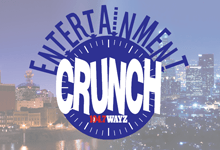 Entertainment Crunch
Every weekday at 7:50 a.m., Krystle catches you up on the latest celebrity news from Hollywood to Nashville. Hear all the drama in 60 seconds!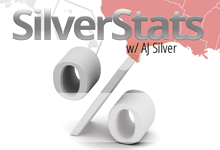 Silver Stats 
Every weekday at 8:10 a.m., AJ brings you the real world surveys. He breaks down the percentages of the serious and the not so serious.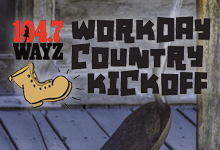 Workday Country Kickoff
Every weekday at 8:30 a.m., AJ starts your workday off with 45 minutes of commercial free music!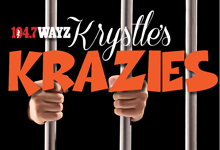 Krystle's Krazies 
Every weekday at 9:20 a.m., Krystle gives you the latest in the world of dumb criminals. Think you've heard it all? Just you wait!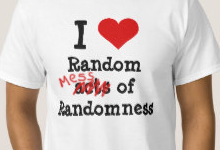 Random Mess of Randomness
Every weekday at 10:15 a.m., Tiny brings you five random facts. Did you know there are no mosquitoes in Iceland? Or that you can see your nose at all times, but your brain chooses to ignore it? Random, we know.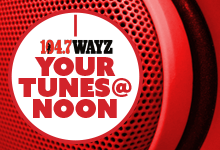 Your Tunes At Noon 
Every weekday at 12:00 p.m., Tiny lets you take over the airwaves! Call or text your requests to 888-950-1047.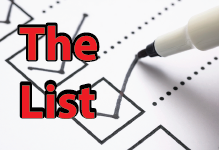 The List
Every weekday at 11:15 a.m., Tiny gives you the list. What list does he give you? Well guess you'll just have to listen to find out.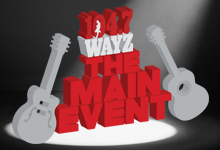 The Main Event
Every weekday at 6:00 p.m., Tiny referees the Main Event. Two new songs will battle it out and you vote decided who moves on to the next round. Make your voice heard by calling or texting 888-950-1047.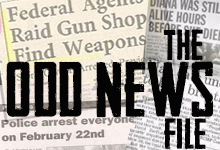 The Odd News File
Every weeknight at 8:20 p.m., join JD as he explores the stranger side of current events. Hear about ordinary people in not-so-ordinary situations. From the sublime to the ridiculous.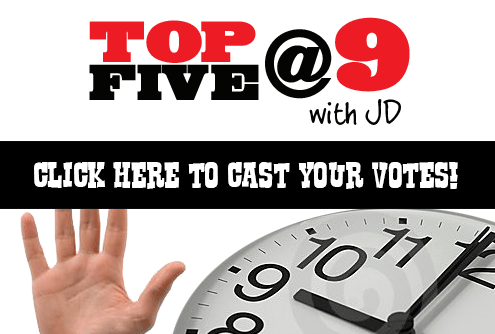 Top Five @ 9
Every weeknight at 9:00 p.m., JD presents the five most requested songs of the day. Click here and submit your favorites!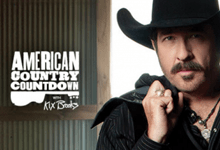 American Country Countdown
Tune in on Sundays from 8:00 a.m. – 12:00 p.m. for American Country Countdown with Kix Brooks! Click here to visit the official website!