Holly McCall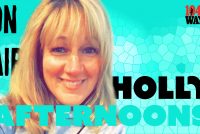 I grew up in Westminster, MD but have a lot of family in Hagerstown and Cumberland so this area feels like home.
My entire life is "show prep" so you'll feel like you know me and my entire family. They were warned years ago that nothing is off limits!
I'm a chick that digs football (Go Dolphins!) and baseball (yes, I will admit that I'm an O's fan…)
I'm all about spending time with the people who mean the most to me! Making happy memories is my favorite pastime. I love sushi, pizza and anything in the flavor of coconut!
I'm most inspired by our listeners and their amazing stories. I look forward to meeting each and every one of you!